ASUS PadFone 2
From Padfone Wiki
ASUS Padfone 2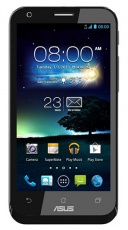 Specification
Manufacturer:
ASUS
Release Date:
Apr. 2012
Operating System:
Android
File:Android-icon.jpg
Dimensions:
137.9 x 69 x 9 mm
Weight:
135 g
Chipset:
Qualcomm Adreno 225
Display:
4.7 in, Super IPS+ screen with HD (1280×720) resolution
Networks:
850 900 1800 1900 MHz UMTS/HSPA 900 2100 MHz
Wifi:
802.11 b/g/n 2.4 GHz
Bluetooth:
4.1
NFC:
Yes
GPS:
Yes
Video out:
USB-MHL
Camera:
13MP
Secondary Camera:
1.3 MP
Internal Memory:
2GB RAM, 32/64GB NAND
Memory Card:
No
Battery:
2140 mAh
Additional Features:
usable with Padfone 2 Station
The Padfone 2 was announced on October 16 2012 and released soon after. The Padfone 2 received a lot great comments because it was a good upgrade of the previous Padfone. Nevertheles, the Padfone 2 also received a lot of critics because it didn't feature a keyboard dock.
User Comments
Issues with CMClient application unexpectedly closing
If you receive an error message with CMClient closing unexpectedly, then goto Settings->Application->Running applications, locate the CMClient application - force close it and delete data and reboot the phone.
This issue should be resolved with v10.4.16.8 of the firmware.
How to add 2 extra home screens to the Padfone2 "desktop"
On the main Padfone2 screen, pinch the desktop and an overview display of the 5 Android screens that you get by default will be given - there will also be an option present where you can add 2 additional extra ones if you require and also a button to allow you to select which one you want to act as the "Home" screen
v11.8.4.6 released for WWE and TW SKUs - 21 JUL 14 Bugs for v11.8.4.6
-> Be very careful with this release - it may overwrite your SKU with the WWE one as I have a HK SKU which was overwritten by the WWE SKU by OTA.
Issues which appear to be resolved by this release (according to Asus's website) are :
1. Fix tearing while scrolling the photos or articles 2. Fix the sound to become smaller occasionally after inserting headphones 3. Fix image quality issue while taking a photo in the dark place 4. Fix photo with green stripes occasionally while recording and then taking a snap shot 5. Fix ringtone to be displayed "none" while the default alarm tone was set (Deep) 6. Add Polaris Office 7. Add PC Link
Personally I never experienced any of these issues, and within installing 5 minutes of installing the 11.8.4.6 update I received my first crash :(
On the plus side the battery does not get very warm anymore when the phone is switched off.
v11.8.3.3 released for pretty much all SKUs - this release encompasses ZenUI and Android 4.4 !!
Bugs for v11.8.3.3
So far Android 4.4 has been very stable - much more so than Jellybean, however the following bugs have been noticed :
a) After switching the phone off the phone seems to continue to charge - it becomes very warm - much more so than with the old version of Android b) When using the speakerphone, if you bring them OFF the speakerphone you can no longer hear the caller through the phone itself
TW and CHT SKU for V10.4.17.15 released 8-APR-14 Currently only out on TW and CHT SKUs - also unsure as to whether this encompasses the upgrade to KitKat and ZenUI.
Comments from upgraders welcome !
JP SKU for V10.4.17.7 released 26-AUG-13
WWE SKU for V10.4.17.7 released 22-AUG-13 Changelog as follows : Improvement: 1.Applied the Android security patch provided by Google 2.Improved the camera's firmware and optimized the AWB (automatic white balance) function 3.Improved the input keyboard's interface and upgraded the vocabulary database 4.Improved the performance and stability of the applications 5.New BuddyBuzz and FloatingApp version 6.Fixed bugs from users' feedback
TW and CHT SKU for V10.4.17.7 released 12-AUG-13
RU SKU of firmware v10.4.16.8 released 6-JUN-13, HK SKU released 10-JUN-13
JP SKU of firmware v10.4.16.8 released - 05-JUN-13
WWE SKU of firmware v10.4.16.8 released - 03-JUN-13
Enhancements listed as :
1.Optimized camera performance -Enhanced focus sensitivity -Improved video quality and image clarity -Noise reduction function helps to improve the quality of low brightness image 2.Improved camera and video light functions 3.Improved the WI-FI stability 4.Improved system compatibility and performance
CN SKU of firmware v10.4.16.8 released - 30-MAY-13
v10.4.16.8 of firmware released - 27-MAY-13
So far only released for Taiwan SKU (TW and CHT)
New v10.4.15.1/2 of firmware released - 23-APR-13
Currently only HK, WWE, CHT, TW versions available @ v10.4.5.1 - strangely the CN version is listed @ v10.4.5.2
Only reported entry in changelog on the website at the moment is :
"Improve system stability and performance."
New v10.4.12.24 of firmware released - 13-MAR-13
Currently only RU, CHT, HK, JP and TW SKU's released.
Taken from the Asus website, the improvements are as follows :
1. Enhanced PadFone 2 and PadFone 2 Station performance and stability
2. Improved Wi-Fi connection and stability
3. Upgraded the camera's firmware and optimized the camera's HDR and automatic brightness control functions
4. NFC file sharing on ASUS Studio
5. Added ASUS Story
6. Support of Tomb Jewels
7. Improved the Weather Time widget
8. Improved Email's editing function
9. Improved Contacts app
10. Improved the Battery widget's battery display function
11. Optimized the instant translation interface
12. Added SMS samples
13. Optimized the lock screen interface
See Also